The ThermoSorber™ is a thermally-driven heat pump which supplies air conditioning or refrigeration at the cold end, and which uses all the reject heat (gas heat plus cooling duty) to heat hot water.
The high temperature glide achieved with the absorption cycle makes it possible to heat hot water to 160°F, thus meeting the needs of commercial users. The hot water is normally the primary product, with the cooling in a supplementary role. This ensures high year round utilization and short paybacks.
This appliance reduces the utility bill for hot water and cooling by more than half, compared to the most economic commercially available equipment.
Key Features
Delivers both chilling and hot water
Provides 160°F hot water at gas COP = 1.5
50% reduction in utility bill
Pays back in less than two years
Simple, robust absorption technology
Gas, propane, steam or waste heat fired
The ThermoSorber™ hot water heat pump is ideally suited for co-production of hot water and air conditioning or refrigeration. Potential applications include food processing, dairies, breweries, restaurants, laundries, commercial kitchens, hospitals, apartment buildings, motels, gymnasiums, indoor swimming pools, and any other user with significant hot water demand.
Specifications
Cooling Capacity (Tons): 15 to 300 (ARI Conditions) Hot Water Heating Capacity (Btu/hr): 470,000 to 4.8 MMBtu/hr Absorbent: Aqua Ammonia Electricity (kW): 0.75 to 6
The ThermoSorber™ technology was developed with cost share funding from the National Energy Technology Laboratory, U.S. Department of Energy.
Installations
Central California Poultry Processing Plant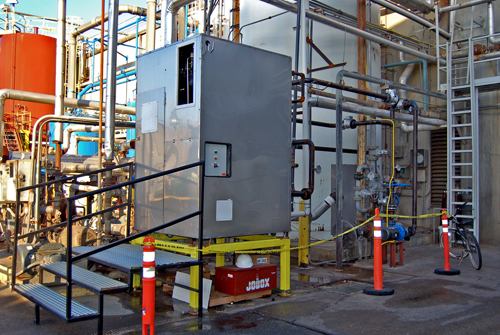 Read the detailed project write-up

from Energy Concepts.
Read the Field Study Final Report

from Pacific Gas and Electric
Wisconsin Meat Packing Plant
See the press release

about this installation from Energy Concepts
© Copyright 2000 - 2016 Energy Concepts Co. LLC. All Rights Reserved.
Website Design © Copyright 2013-2016 by Workable Web Solutions, LLC. All Rights Reserved.