The HeliSorber produces solar hot water and chilling. This heat pump is ideal for customers who need hot water and chilling simultaneously. Examples are hotels, restaurants, commercial laundries, gymnasiums, swimming pools, breweries, and dairies. The HeliSorber is believed to be the world's most efficient solar thermal product. Available with backup burner for cloudy days.
Key Features
Solar Thermal Powered
Heat-Pumped Hot Water
COP,net = 2.3 (COP,chilling = 0.65)
Can use evacuated tubes or tracking parabolic trough solar collectors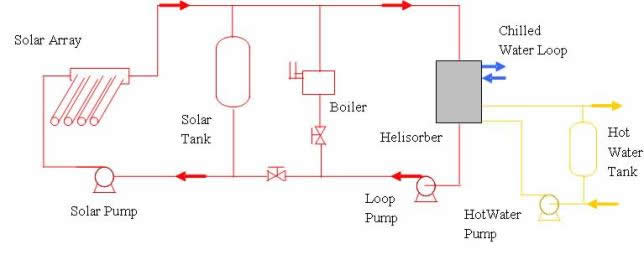 Specifications
Cooling Capacity (Btu/hr): 300,000 ARI Conditions Heating Capacity (Btu/hr): 600,000 ARI Conditions Absorbent: Aqua Ammonia Cooling COP: 0.65, 45°F Heating COP: 1.3, 130°F (Domestic Hot Water) Electricity: 2 kW External Dimensions (ft): 3 × 4 × 8 Operating Weight (lb): 1200
Status
Laboratory breadboard prototype testing completed (25 Tons chilling) 2008: Prototype Demonstration (CEC-EISG)
Read the HeliSorber demonstration Final Report for the CEC
The HeliSorber was developed with funding from the California Energy Commission EISG Grant No. 55032A/06-01G
© Copyright 2000 - 2016 Energy Concepts Co. LLC. All Rights Reserved.
Website Design © Copyright 2013-2016 by Workable Web Solutions, LLC. All Rights Reserved.